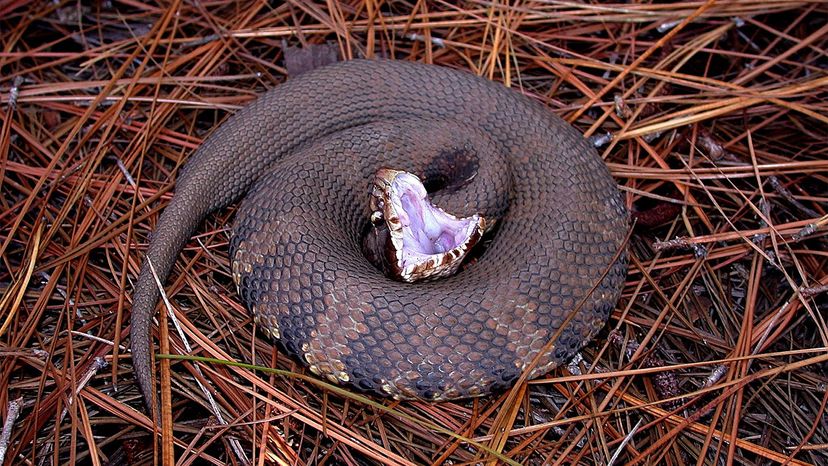 When Hurricane Florence blew through the Carolinas in September 2018, wind, rain, and flooding were not the only threats people faced. A bevy of slithering, sneaky, watch-where-you-step snakes came out of hiding. Chief among them was the notorious and venomous cottonmouth, a.k.a., water moccasin, that turned up in the floodwaters, scaring the bejesus out of many people.
Yet, Bradley Thomas Dixon, a volunteer firefighter, was not scared when he came across two cottonmouths in the storm's aftermath. In fact, he seemed mesmerized as he took a video of two water moccasins casually sunning themselves in a pool of mud near Topsail Island, North Carolina. "These little cottonmouths are sitting here soaking up some sun," Dixon casually narrated as he focused his smartphone. "There's two of them, a big one and little one. The big one looks to be about 4 feet long, the little one's about 3-and-a-half feet long."
Thank goodness Dixon didn't try to touch them. The cottonmouth (Agkistrodon piscivorus) is the only venomous water snake in North America, and one of only four venomous snakes in the United States. The others include the rattlesnake, copperhead and coral snake. Populating most of the Southeast, the cottonmouth gets its name from the white color inside its mouth, although a Native American legend on how the snake got its name and venom is more lyrical. The cottonmouth also goes by such colloquial monikers as black moccasin, gaper, mangrove rattle, and several others, including "water mamba."
The cottonmouth, like the rattlesnake and copperhead is a "pit viper," using its heat-sensitive organs on each side of its head to detect its dinner. While cottonmouths have a bad reputation of being aggressive, Jeff Beane, a herpetologist at the North Carolina Museum of Natural Sciences, says that with its triangular head and steely eyes, cottonmouths will only bite when threatened. Although Beane has studied the reptiles for years, he has no idea where its nickname — water moccasin — came from. It's possible that it originates from the belief that cottonmouths glide through underbrush as silently as someone whose feet are sheathed in moccasins.