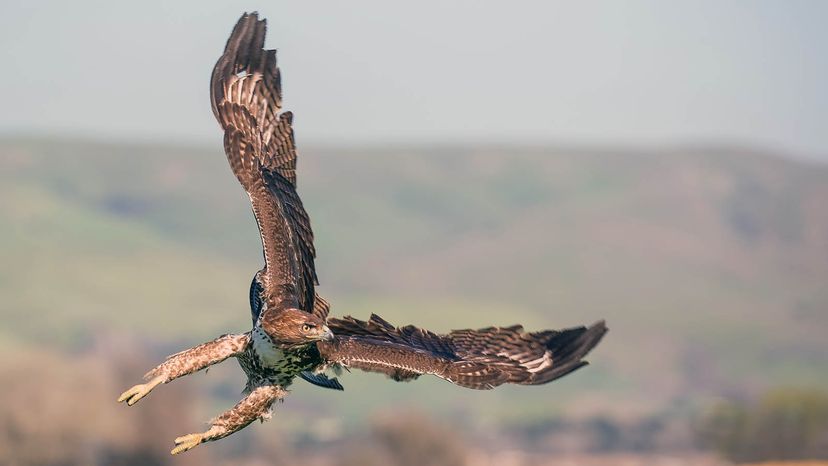 Surely you've seen a gorgeous bald eagle sweep across a TV or movie screen while it makes its familiar call — a harsh scream that sounds like "KEEE-eeer." But chances are you what you heard wasn't an eagle at all. It was more likely the piercing shrill of a red-tailed hawk instead.
"The eagle's call is much 'weaker' and sounds wimpy compared to that of the hawk," Scott Barnes, All Things Birds program director and assistant director of eco-travel for New Jersey Audubon, says in an email interview. Because the smaller and more prevalent red-tailed hawk has a much mightier voice than its larger cousin, the bald eagle, Hollywood regularly dubs over the call of the bald eagle with that of the red-tailed hawk to toughen up the symbol of America. (The bald eagle actually boasts a little cackling type of a laugh that's not very impressive.)
Probably the most common hawk species in North America (there are more than 200 worldwide and about 25 species in the U.S.!), the red-tailed hawk (Buteo jamaicensis) can be spotted soaring above rural areas from coast to coast and perching in open areas with scattered, elevated places, Rick Schwartz, a global ambassador for California's San Diego Zoo, says via email. Among the identifying characteristics of these raptors: keen eyesight, binocular vision, powerful talons for grabbing prey and a sharp beak.
These birds were first identified in Jamaica, in the West Indies, which is how it gets its species name, jamaicensis. But red-tailed hawks also are known as chicken, buzzard, red and Harlan's hawks. Today, although they avoid tundra and thick forest, they are more adaptable than any other hawk in the Buteo genus, Schwartz says. Their varied habitats include scrub, desert, plains, grasslands, agricultural fields, pastures, parks, woodlands and tropical rain forests.
Here are nine other facts you might not know about this ubiquitous yet fascinating bird of prey.