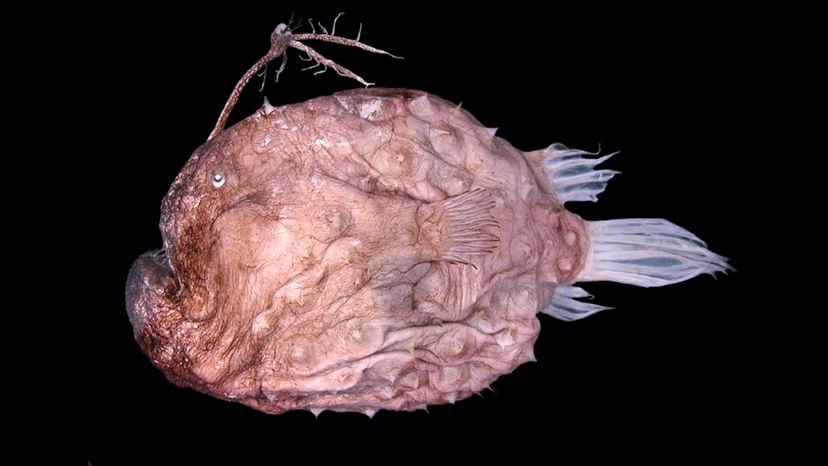 Anglerfish have got an angle all right, but it's definitely not to win anyone over with their spooky good looks. Rather their end game is to attract their prey using a form of fishing known as angling, where an angle (hook) is used to lure in and catch an unsuspecting fish. Yep, just like a fisherman sitting with a pole in hand, anglerfish do indeed fish ... except they do it from the ocean floor. No tackle box or bait needed.
The carnivorous female anglerfish wait patiently in the depths of the sparsely populated deep sea to literally lure in their next meal. They wiggle and "angle" a rod-like extension of their dorsal spine that protrudes from their head and emits light. Once their prey comes close, the female strikes and snags them, using her large, pointy teeth to chomp them up, even if they are twice her size. You gotta admit, that's some seriously self-sufficient fishing.
And in a scientifically groundbreaking 2018 video, scientists captured images of a female with numerous thin filaments extending from her body in addition to her main dorsal appendage. These filaments also emit light, creating a bioluminescent web of whiskers to attract and surround their prey:
Where Do Anglerfish Hang Out?
Some species of anglerfish live in shallow, tropical waters, but the ones that peak the interest of scientists are the ones that live in the deep, murky depths of the ocean — some as deep as 16,400 feet (5,000 meters).
Ted Pietsch, a professor at the School of Aquatic and Fishery Sciences at the University of Washington and author of Oceanic Anglerfishes: Extraordinary Diversity in the Deep Sea, has been studying the elusive anglerfish almost his entire career. He reports by email that, "There are about 166 species so far, but new ones are still coming up. They live so deep that we don't really have a good idea of how big they actually get. We send nets down to collect them, and the deeper we go the larger specimens come up."
But how do they manage to stay so close to the ocean floor at such depths? Pietsch shares that most anglerfish, along with some other deep-sea fish, don't have a swim bladder — a gas filled sac that helps fish stay afloat without the need to constantly swim. The lack of a swim bladder not only helps them stay near the bottom, it also conserves energy — energy that's at a premium given the difficulty of finding a meal so far down.