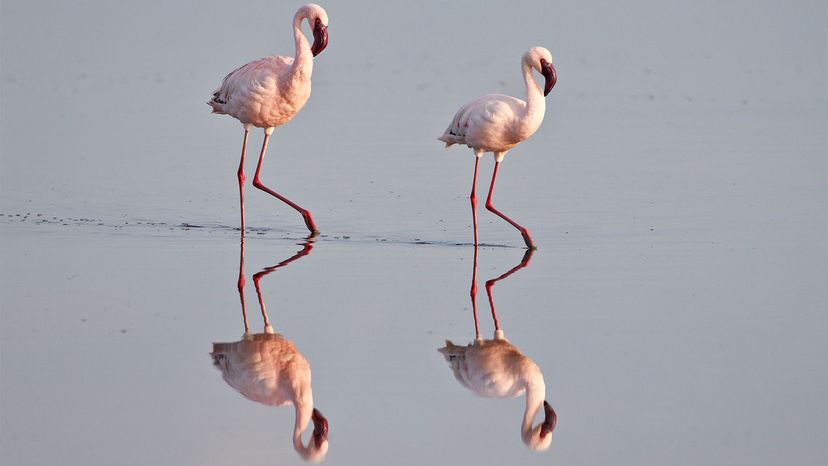 Pink Floyd the lesser flamingo was spotted again March, this time in Texas. He's been on the run since he escaped a Kansas zoo in 2005 (not pictured).
James Hager/Getty Images
When a fisherman off the gulf of Texas spied a puff of light pink feathers perched on one leg, he couldn't believe his eyes. As the bird unfurled itself it was clear: It was a flamingo. Flamingos are not native to Texas, nor is Texas anywhere on a flamingo's normal migratory path. After tweeting a video of the bird, Texas Parks and Wildlife confirmed that it was Pink Floyd, a flamingo who escaped a Kansas zoo in 2005. For 17 years, Pink Floyd has traveled through Texas, Arkansas, Wisconsin and Louisiana as, well, a free bird.
Pink Floyd might be one of the longest living animal escapees around today, but he certainly isn't the only great animal escapee we've ever seen. Dozens of animals have broken free of their zoos, research labs and even slaughterhouses, showcasing the amazing creature intelligence and opportunism. Here are five other daring — and adorable — animal escapes.
1. The St. Louis Six
In 2017, six steers in St. Louis were sent to a slaughterhouse, but they had other plans. Led by a huge steer named Chico, six of them busted out, supposedly agitated by the rumblings of an approaching thunderstorm. Likely scared by their freedom — and the ruckus they'd caused — they ran through the streets of St. Louis for hours. They evaded everybody and captured the attention of the media, animal lovers and the local community.
Authorities eventually rounded the crew up, but by then the public also had begun a campaign for their freedom. After several attempts from rescue organizations to negotiate with the slaughterhouse failed, The Gentle Barn stepped in. Founders Ellie Laks and Jay Weiner had 24 hours to find them a new home. And that they did. The six were sent to a rescue until enough funds could be raised to build a new facility in Missouri especially for them.
Though one bull, Spirit, had to be euthanized, the other five now happily live as therapy cows at the third Gentle Barn location, just a short drive from the slaughterhouse where they escaped.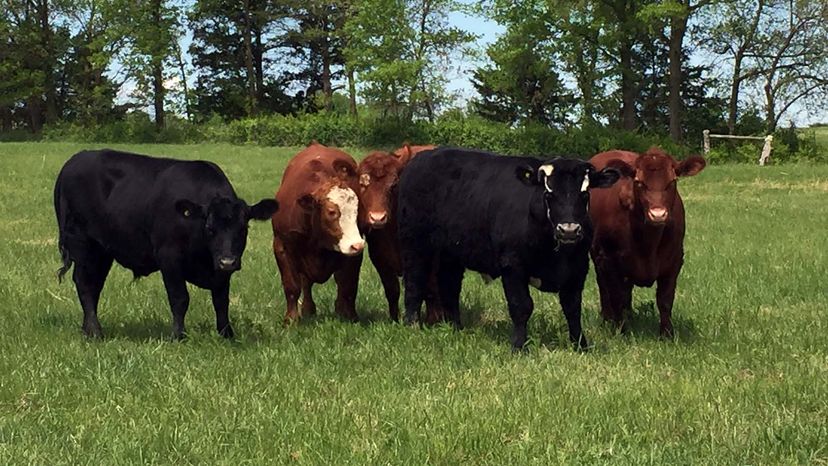 Chico (seen far right) led the amazing escape that took over local news and reached national attention. Since being rescued by The Gentle Barn, Chico and his brothers were given medical attention and now enjoy their freedom at The Gentle Barn in Missouri.
PRNewsfoto/THE GENTLE BARN
2. The Dania Beach Monkeys
In 1948, 50 green monkeys escaped from the Anthropoid Ape Research Foundation (ARFF). ARFF was opened in the early '40s in Dania Beach, Florida, as a zoo and to provide primates from Africa for research for the polio vaccine. Some were captured, but the others started lives in the Florida wildlife.
Now more than 70 years later, scientists from Florida Atlantic University have been able to trace a colony of 36 vervet monkeys thriving in the thick mangrove forest near the Fort Lauderdale-Hollywood International Airport in South Florida, to those remaining escapees.
How? Partly because of that green coloration — people call them green monkeys because of the notable greenish tint of their fur. The team at FAU photographed every monkey at Dania Beach and recorded various traits to help identify their species. The team also tested genetic markers, and confirmed that the Dania Beach monkeys are in fact green monkeys (Chlorocebus sabaeus) and descendants of those from West Africa. Today there's a nonprofit, the Vervet Project, whose goal is to build a sanctuary for the monkeys to keep them safe from human interactions.
3. Ken Allen Was San Diego Zoo's Houdini
Ken Allen was San Diego Zoo's beloved orangutan who also had a penchant for busting out. He first escaped his home at the San Diego Zoo in 1985, scaling a wall and strolling down the zoo's pedestrian pathway, taking in the sights before being walked back to his enclosure (which wasn't so 'enclosed'). Zoo staff increased the height of the wall by 4 feet (1.2 meters), but that didn't stop Ken. The great ape — and even some of his ape friends — escaped an additional nine times!
Ken Allen had a history of Houdini-ing his way out of his enclosures and was known to use tools to do it. One time he and his roomy Vicki used a discarded crowbar he found in his pen to open a window. He also was known to unscrew the bolts of his nursery at night when he was young, and then he'd put the pen back together before his caretakers arrived again the following morning. After several escapes, the zoo tried electric wire and even distracted him by adding two female orangutans to his enclosure. Nothing worked. Eventually, even his female counterparts, Jane and Kumang, caught the escape bug and made their getaway using a window squeegee.
Ken Allen died from cancer in 2000 at 29 years old, according to the San Diego Zoo, but not before becoming a local hero and his own "brand."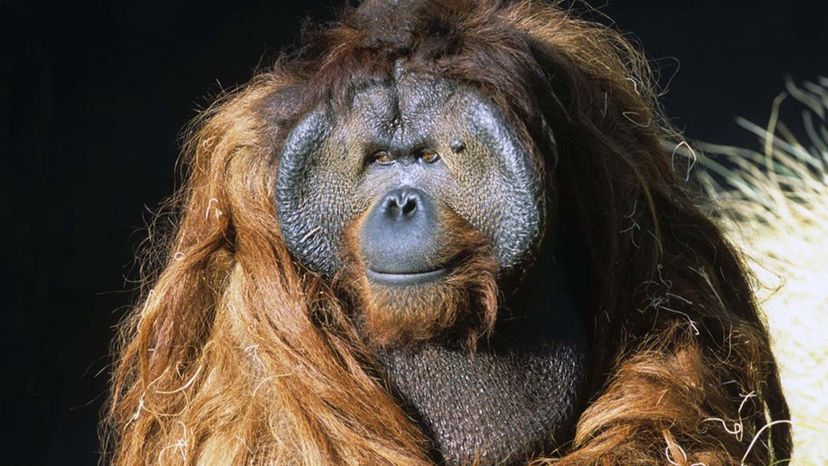 Ken Allen was a beloved orangutan at the San Diego Zoo, but he had a knack for escaping, too. He broke out of his enclosure at least nine times before he died of cancer in 2000.
San Diego Zoo
4. Nala Escaped JungleLand
Three years after the Disney animated treasure "The Lion King" was released, a real-life Nala became a hot topic of conversation. However, it wasn't for her Hollywood performance. In 1997, CNN reported that a two-and-a-half-year-old, 450-pound (204-kilogram) lioness named Nala escaped from a zoo called JungleLand, near Walt Disney World. Perhaps she was trying to make her way to the theme park to be doted on by children, but whatever her intentions, she was wandering Kissimmee, Florida, for two days when she was finally spotted by helicopter and tranquilized by a veterinarian.
Apparently, Nala made a run for it when her handlers tried to move her cage above flooded ground after several consecutive days of rain. Just like her fearless namesake, it took three tranquilizer darts to finally get Nala to take a nap so she could go safely back home to JungleLand, which eventually closed its doors in 2002.
5. Evelyn Flees the Los Angeles Zoo
The Los Angeles Zoo has had its fair share of animal escapes. Virginia the wolf escaped numerous times during the '70s and '80s, by climbing trees and fences, no less. But Evelyn, a 24-year-old western lowland gorilla, has escaped her living arrangements at least four times.
Perhaps she got a few tips from San Diego's Ken Allen. Anyway, Evelyn is creative with her getaways. So far, she's successfully jumped off the back of another gorilla to go over a wall, and she's used overgrown vines as another method to pull herself up and over the wall. That time she didn't even leave the zoo perimeter. She just roamed around for more than an hour and was "behaving like a huge child," according to the Los Angeles Times. You go, Evelyn.
Whether it's for life and death reasons, like the St. Louis Six, or an ape reminding us we're not the only ones with opposable thumbs, animals are opportunists who crave a taste of the free-range life much as we do.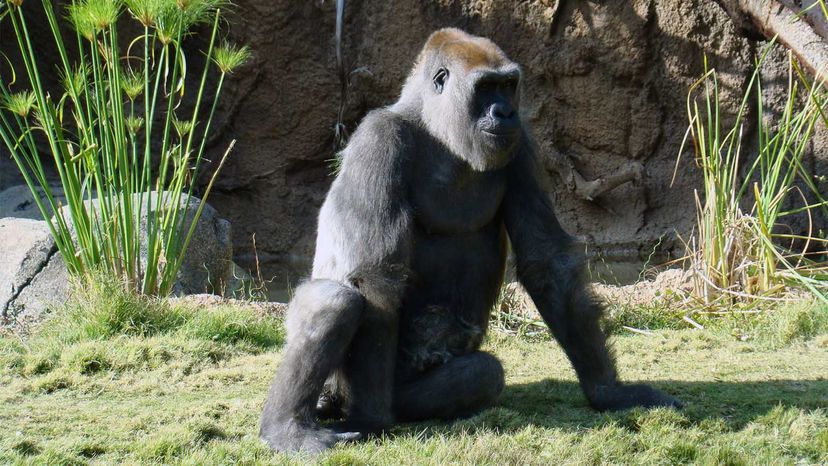 Evelyn is a lowland gorilla at the Los Angeles Zoo who seems to be carrying on Ken Allen's ways. To date, she's escaped her enclosure four times.
Mario Pineda/(CC BY-NC-SA 2.0)