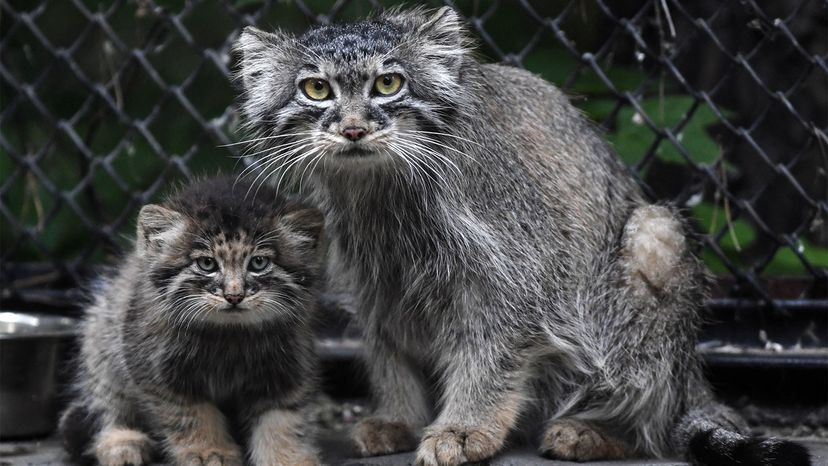 Furry, funny and fascinating, the Pallas's cat (Otocolobus manul) is perhaps one of the most expressive felines in the world. Also known as the manul cat, these fluffy felines get their star quality from their repertoire of quirky facial expressions. Pallas's cats are found throughout Central Asia, with the largest populations thought to be in Mongolia and Russia, where they've long held a level of celebrity status — playing the role of mascot for the Moscow Zoo for over 30 years.
Pallas's cats, as well as an assortment of birds, mammals and plants, get their name from Peter Simon Pallas, a German zoologist who was the first to describe them. Pallas is known for his role in the first Russian Siberian expedition to survey the Russian Empire in the 18th century.
The Pallas's cats' famous expression appears cantankerous in part due to their flat faces, which have large, owl-like eyes with round pupils. Their bodies aren't actually as large as they appear, and aren't as big as one might expect of a wildcat. Under all that grayish-brown fur, the longest and densest in the feline world, they're about the size of an average house cat. So why all that fluff? It's less about size and more about having a camouflaged winter parka — the abundance of long fur helps them stay warm in the frigid temperatures of their high-altitude habitat while keeping them hidden from deadly predators.
Pallas's cats are also known for their adorably small ears, which, it turns out, play a crucial part in their survival. Jim Sanderson, Ph.D., with the Small Wild Cat Conservation Foundation, shares in an email interview, "Winter in the Asian steppe, especially at high latitudes in Mongolia and north into Russia and the windswept grasslands of Kazakhstan, can be brutally cold. Large ears like those of a jackrabbit give off a lot of body heat, an advantage in the hot desert like the Sonoran desert but a disadvantage in cold places. (Having) no ears would be best, but Pallas's cats must also listen for rodents, so they need ears. Evolution has produced the perfect compromise."