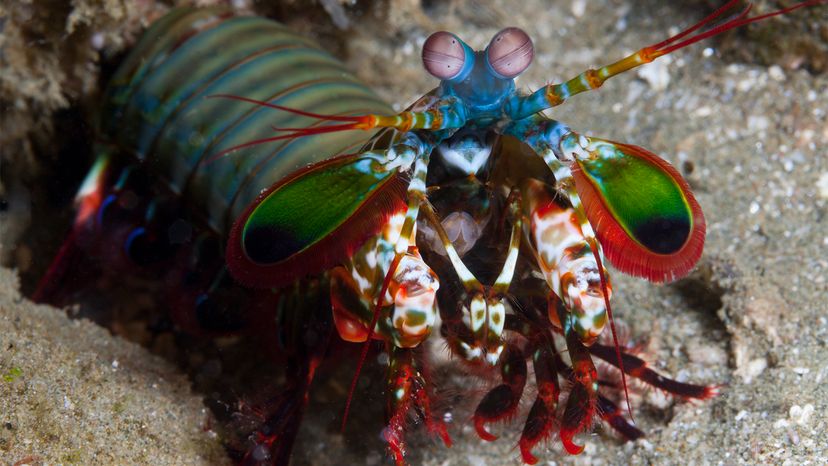 The mantis shrimp is not your average shrimp. In fact, it's not a shrimp at all. It's a stomatopod crustacean only distantly related to the shrimp — and this stomatopod is deadly. The cigar-sized mantis shrimp packs a surprisingly big punch, with raptorial appendages and fierce muscles that can deliver a 60-mile-per-hour (96-kilometer-per-hour) blow that's strong enough to crush aquarium glass or smash a crab instantaneously. And, if defending itself, a mantis shrimp could cut through a human's finger within milliseconds — an injury that can lead to amputation. That's why marine biologist Katie Watson says it's best to keep your distance.
"Nicknamed the thumb splitter, they can cause painful injuries if they are not treated with care," Watson says in an email. "They can also shatter fins or a camera lens, so don't get too close, and as a fundamental rule of diving: look, but don't touch."
Muscle power is only one factor behind the mantis shrimp's ferocity. The crustacean has a system of biological springs, latches and levers that work in tandem to deliver piercing strikes. This is the fastest limb movement in the animal kingdom, says Watson.
While its power is impressive, the mantis shrimp boasts much more than brute strength. Here are seven mind-blowing facts about the mighty and marvelous mantis shrimp.