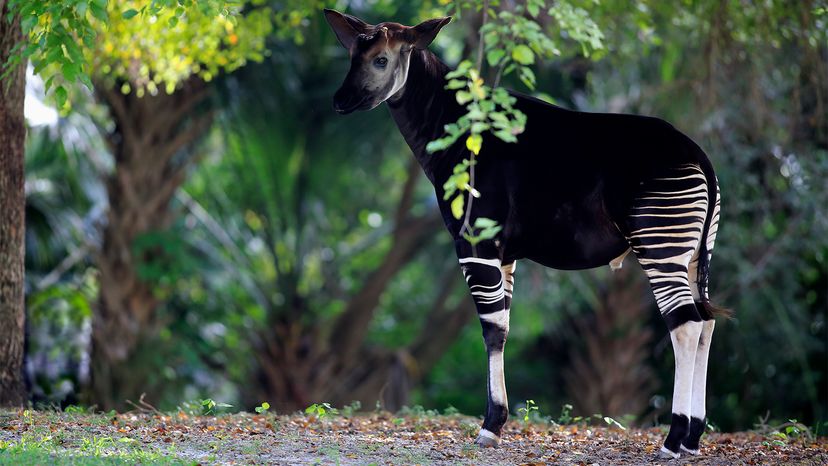 Upon first seeing an okapi (pronounced oh-COP-ee), many people assume this beautiful and unusual animal is related to a zebra. And that's a really good guess, especially since it has the body of a horse — at about 5 feet (1.5 meters) tall, and between 440 to 660 pounds (199 to 299 kilograms) — and its hindquarters are clad in reddish-brown and cream stripes.
In reality, however, the okapi's closest relative is the giraffe (it's even sometimes called a "forest giraffe"), and the two animals — aside from belonging to the same scientific genus, the Giraffoidea family — have several connections. First off, they both have long necks, cloven hooves and short, skin-covered horns. Next, their skulls are almost identical, except the okapi's is smaller. Finally, they each have a super-long, prehensile, flexible bluish tongue that's ideal for plucking leaves from trees and shrubs. And, thanks to that extra-long tongue, the okapi is one of the only mammals in the world that can lick its own ears!
"The okapi is the only living relative of the giraffe," explains Rick Schwartz, a global ambassador for California's San Diego Zoo, which has okapis at the zoo and at its Zoo Safari Park, in an email interview. "This species resides in the dense rainforest of Central Africa, so that is where the nickname 'forest giraffe' comes from. At first glance, they don't look exactly like a giraffe, but when you look at the head and face of the two species, you see many similarities, such as the large ears, the shape and look of the eyes, ossicones (small horns on the top of the head that are covered with skin) and long prehensile tongue."
Curious to know more about this enigmatic creature, which is only found in the dense rainforest of the northeastern region of the Democratic Republic of the Congo? Here are nine more factoids you might find interesting.