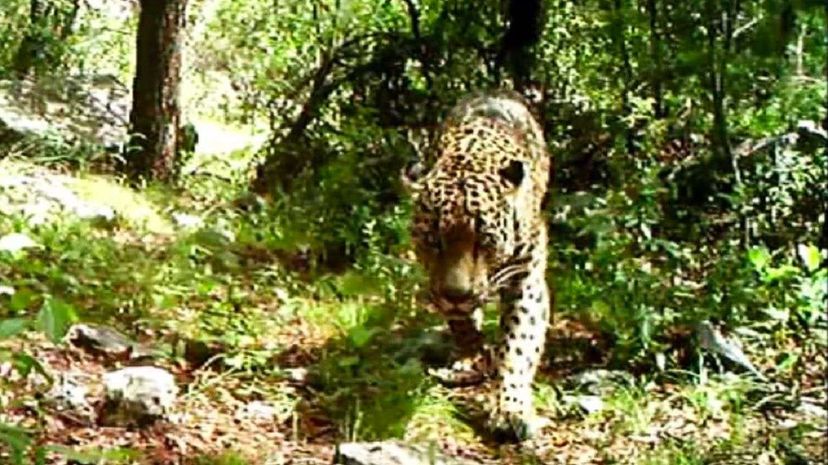 After a three-year hunt, researchers have finally captured video footage of the only jaguar known to roam wild in the United States.
Working together, Tucson, Arizona-based nonprofit [http://www.conservationcatalyst.com/]Conservation CATalyst and the Center for Biological Diversity in Seattle have tracked the jaguar for years, taking hundreds of still photos with motion-triggered cameras, but never catching him on video until now.
The jaguar lives in the Santa Rita Mountains in southern Arizona, about halfway between Tucson and the Mexican border.
"Studying these elusive cats anywhere is extremely difficult, but following the only known individual in the U.S. is especially challenging," says Conservation CATalyst researcher Chris Bugbee in a press release. "We use our specially trained scat detection dog and spent three years tracking in rugged mountains, collecting data and refining camera sites; these videos represent the peak of our efforts."
Arizona represents the northernmost reach of the jaguar's natural habitat. Estimates say that only about 15,000 jaguar (Panthera onca) live in the wild today. Though it once roamed from what's now the United States to far southern South America, the solitary hunter is mostly found in Central and northern South America.
"Just knowing that this amazing cat is right out there, just 25 miles from downtown Tucson, is a big thrill," said Randy Serraglio, conservation advocate with the Center for Biological Diversity. "El Jefe has been living more or less in our backyard for more than three years now. It's our job to make sure that his home is protected and he can get what he needs to survive."