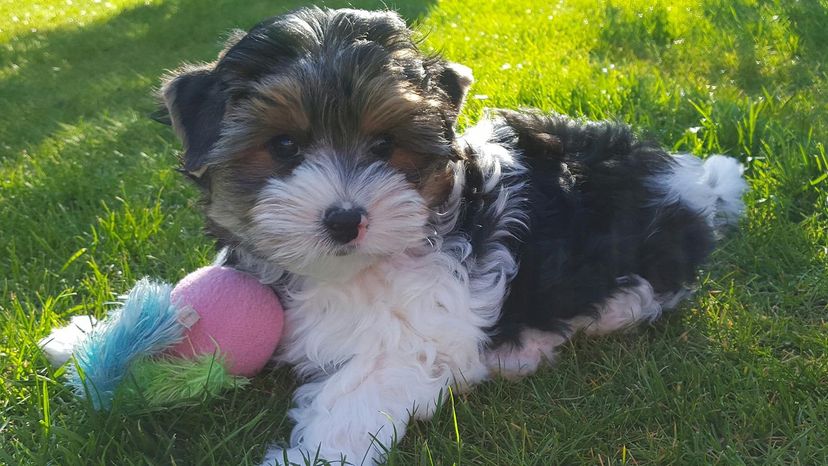 The American Kennel Club (AKC) accepted the 197th entry into the ranks of its accepted canine breeds in Jan. 2021. Called the Biewer (pronounced like "beaver") terrier, the newest member of the pack is a descendant of the Yorkshire terrier, and it's now recognized by the world's leading purebred dog registry and able to compete in the Toy Group in AKC-sanctioned events.
So, what exactly is a Biewer terrier? The dog originated in 1984 when a German family named Biewer produced a piebald Yorkshire terrier puppy by breeding two Yorkshire terriers.
"The puppy carried a recessive gene for piebald coloration, and the breeders started a selective breeding process to produce similar piebald puppies," says Nicole Ellis, a certified professional dog trainer and pet expert with Rover.com, in an email interview. "They didn't meet AKC standards for being a Yorkshire terrier due to the different coloring, but were eventually accepted into AKC as a new breed. The Biewer terrier is very similar in appearance to the Yorkshire terrier breed, except it has a piebald coloration. It has three colors versus the Yorkshire terrier that is composed of two colors."
Typical Yorkshire terriers are black and brown, with little to no white coloring, according to Steffi Trott, owner and head trainer for SpiritDog Training in Albuquerque, New Mexico. "The rare piebald gene produces large white areas on the dog's body," says Trott in an email interview. "You can think of the Biewer terrier as a Yorkie with a lot of white.The AKC occasionally allows consistently bred types of dogs to join their registry. The applying breeds have to fulfill a number of requirements. The Biewer terrier is the latest breed to be accepted. A lot of breeds and crossbreeds are currently not accepted — for example, any kind of doodles or Scottish collies."