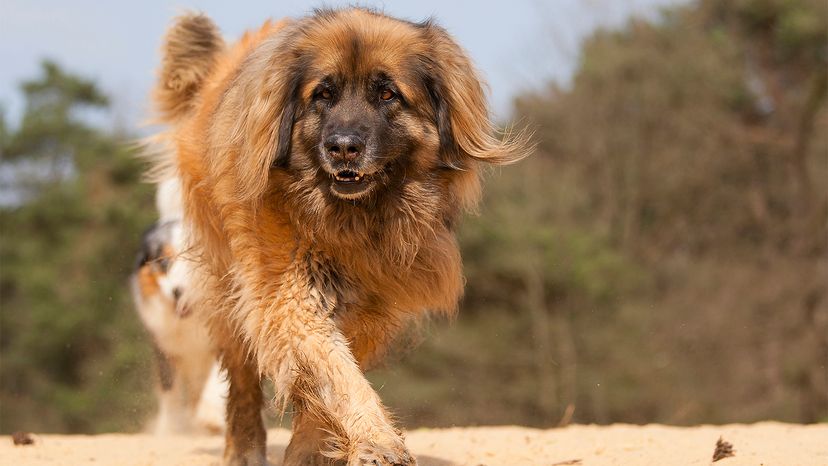 If you've never heard of a dog breed called the Leonberger, you're probably not alone. Exactly what is this Leonberger, you might be asking? Originally bred to resemble a lion using a mix of the Newfoundland, long-haired Saint Bernard and Great Pyrenees, this immense creature typically weighs in at between 120 and 170 pounds (54 and 77 kilograms) and stands 2 to 2.5 feet (0.6 to 0.7 meters) at the shoulder. It's known for its medium-to-long waterproof coat, lush triangular ears, bushy tail and dark-brown eyes framed by a black facemask, with the male even sporting a lion-like mane around his neck and chest.
"Leonbergers are lion lookalikes, with reddish-brown bodies and black masks," says Nicole Ellis, a certified professional dog trainer and pet expert with Rover.com, in an email interview. "Leonbergers are so jumbo-sized and lion-esque that they sometimes look like they're straight out of Narnia. Even though they're big (and love to eat, which means they can get quite heavy), they're agile, graceful and surprisingly light on their feet. Leos were never bred as specialized dogs, so they're well-rounded in just about everything — intelligent, gentle and sensitive family dogs.
"They do need a good amount of space, exercise and grooming," adds Ellis. "They're giant, lovable companions who have the most fun when they're hanging with their families. As a bonus, their deep, low bark and big size make them intimidating watch dogs."
Perhaps the only problem with this breed? You might have trouble finding one. "While Leonbergers are quite common in their country of origin (Germany), there are only a small number in the U.S. these days," says Steffi Trott, owner and head trainer at SpiritDog Training in Albuquerque, New Mexico, by email.
No worries, though. "The Leonberger does seem to be gaining in popularity in the U.S. since being accepted into the American Kennel Club (AKC)," says Sara Ochoa, a small animal and exotic veterinarian in Texas and veterinary consultant for doglab.com, by email. She currently has two Leonberger patients at her clinic.