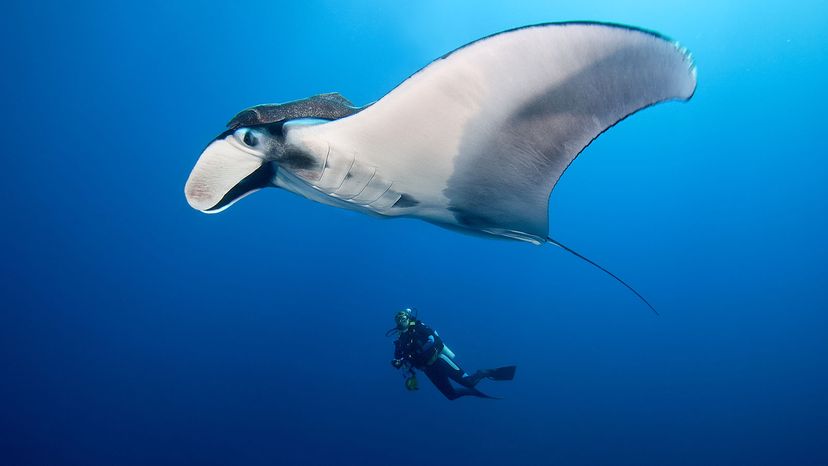 Confusing a manta ray with a stingray can be an easy mistake. After all, they both have large, flat bodies; heads attached directly to wide, triangular pectoral fins; and similar tail-like appendages. Both rays also are members of the Chondrichthyes class of cartilaginous fish, which also includes sharks and chimaeras.
While these two rays are related, they have many differences. For starters, there are only two species of manta rays compared with more than 200 types of stingrays.
So, what are some other differences? Well let's start with the stingray. Stingrays have flat bodies and large pectoral fins that can either give them a rounded shape or a diamond shape with pointed fins, Erin McCombs, education supervisor for California's Aquarium of the Pacific in Long Beach, says via an email interview. "Unlike manta rays, stingrays have long, thin tails, and many have a small stinger (or barb) near the base of the tail."
A manta ray, meanwhile, is actually a type of stingray. "Through evolutionary history, they have lost their stinger," says McCombs, "but developed several other unique adaptations, including the cephalic lobes (specialized flaps on the front of their face that help them to filter tiny plankton from the water)."
Another difference: A stingray's mouth is found on the underside of its body, while the mouth of the manta ray is located along the front edge.
If it all sounds confusing, don't worry. Once you become more familiar with these two sea creatures, it can be easy to spot the difference. To help, here are seven fun facts that will help you tell the two apart, as well as give you additional insight into both species.