1
Stubbs, Mayor of Talkeetna
Stubbs a ginger cat, like this one, was mayor of Talkeetna, Alaska for 20 years.
Carla Honings /Eyeem/Getty Images
When residents of Talkeetna, Alaska (population: less than 1,000) weren't thrilled with their choices for mayor in 1997, a majority wrote in the name "Stubbs." The only glitch was that Stubbs was a cat. A kitty, actually, that was born that year.
That's the story Talkeetnans tell, anyway. Talkeetna doesn't actually have a mayor. But the townsfolk took a liking to the orange cat, found in the parking lot of Nagley's General Store and taken in by its owner, and decided the feline should be the town's honorary official. Stubbs, so-named because he only had the stub of a tail, got the job, a Facebook page and lots of love and attention to boot [sources: Peterson, Campbell].
Stubbs retired from public life in 2015, due to old age. He died in 2017, having served Talkeetna faithfully for 20 years. "He was a trouper until the very last day of his life," his owners wrote in a statement announcing his passing. "You are are a remarkable cat and we will dearly miss you" [source: Levin].
Originally Published: Nov 16, 2016
Author's Note: 10 Cats Who Made History
I'm a dog person, and I'm not ashamed to admit it. I've always felt cats were too sneaky, independent and unsnuggly for my tastes. But a few of the cats in this piece sound pretty darn cool, especially Oscar. If I end up in a hospice, I like the idea of a cat curling up next to me in my final hours, even if I'm not conscious. Poor little All Ball didn't live very long, but he was beloved by Koko the gorilla – an animal that has always intrigued me – and I remember mourning his death in 1985 along with Koko. I'm thrilled to learn she now has not one, but two, new kitties to love.
Related Articles
More Great LInks
Sources
ABC 7. "Grumpy Cat To Be Immortalized In Wax By Madame Tussaud's." Aug. 29, 2015. (Oct 23, 2016) http://abc7.com/pets/grumpy-cat-to-be-immortalized-in-wax-by-madame-tussauds/961896/

Alaska Public Media. "Sullivan Unseats Begich In Senate Race." Nov. 11, 2014. (Oct. 24, 2016) http://www.alaskapublic.org/2014/11/11/sullivan-unseats-begich-in-senate-race/

Boyle, Alan. "Elementary, my dear Fluffy: Cat DNA solves another homicide." NBC News. Aug. 14, 2013. (Oct. 19, 2016) http://www.nbcnews.com/science/elementary-my-dear-fluffy-cat-dna-solves-another-homicide-6C10913900

Campbell, Colin. "A Cat Mayor Just 'Announced' His Campaign For Senate In Alaska." Business Insider. Nov. 4, 2014. (Oct. 19, 2016) http://www.businessinsider.com/a-cat-mayor-just-announced-his-campaign-for-senate-in-alaska-2014-11

Cat Eyes. "21 Most Famous Cats In History." July 28, 2015. (Oct. 24, 2016) http://www.cateyes.com/21-most-famous-cats-in-history/15/

CCTV. "Grumpy Cat frowns upon New York City." Aug. 9, 2014. (Oct. 24, 2016) http://english.cntv.cn/2014/08/09/VIDE1407514799221263.shtml

Elliott, Stuart. "Before Their Was Grumpy Cat, There Was Morris, 9Lives Reminds Consumers." The New York Times. Oct. 27, 2014. (Oct. 19, 2016) http://www.nytimes.com/2014/10/27/business/media/9lives-reintroduces-morris-the-cat-in-new-campaign.html

Encyclopedia. "Snowball the Cat." (Oct. 23, 2016) http://www.encyclopedia.com/science/encyclopedias-almanacs-transcripts-and-maps/snowball-cat

Fox News. "Oscar the Cat Predicts Nursing Home Deaths." July 26, 2007. (Oct. 19, 2016) http://www.foxnews.com/story/2007/07/26/oscar-cat-predicts-nursing-home-deaths.html

Goldsmith, Belinda. "Doctor casts new light on cat that can predict death." Reuters. Feb. 2, 2010. (Oct. 19, 2016) http://www.reuters.com/article/us-cat-death-idUSTRE6115QB20100202

Grundhauser, Eric. "In 1975, a Cat Co-Authored a Physics Paper." Atlas Obscura. Aug. 30, 2016. (Oct. 19, 2016). http://www.atlasobscura.com/articles/in-1975-a-cat-coauthored-a-physics-paper

Islamic Information Portal. "The Love And Importance Of Cats In Islam." Feb. 15, 2013. (Oct. 19, 2016) http://islam.ru/en/content/story/love-and-importance-cats-islam

Kratochwill, Lindsey. "Koko The Gorilla Gets Two Kittens For Her 44th Birthday." Popular Science. Oct. 16, 2015. (Oct. 29, 2016) http://www.popsci.com/koko-gorilla-gets-two-kittens-for-her-birthday

Lewis, Danny. "10 Downing Street's 'Chief Mouser' Is Keeping His Job Despite Brexit." Smithsonian. July 14, 2016. (Oct. 19, 2016) http://www.smithsonianmag.com/smart-news/10-downing-streets-chief-mouser-keeping-his-job-despite-brexit-180959799/?no-ist

McGraw, Carol. "Gorilla's Pet: Koko Mourns Kitten's Death." Los Angeles Times. Jan. 10, 1985. (Oct. 19, 2016) http://articles.latimes.com/1985-01-10/news/mn-9038_1_pet-kitten

Mitchell, Chris. "The New Trend on the Internet Cat Pics." Animal Shelter. (Oct. 24, 2016) http://www.animalshelter.org/pet-tips/578/The_New_Trend_on_the_Internet_Cat_Pics.html

Peterson, Casea. "This Is The Single Craziest Thing You Never Knew Happened In Alaska." Only In Your State. March 19, 2016. (Oct. 24, 2016) http://www.onlyinyourstate.com/alaska/stubbs-cat-mayor-ak/

Presidential Pet Museum. "Socks the Cat." July 21, 2013. (Oct. 19, 2016)

Roberts, Patrick. "Matthew Flinders' Cat Trim." Purr 'n' Fur. (Oct. 19, 2016) http://www.purr-n-fur.org.uk/famous/trim.html

Van Syckle, Katie. "Grumpy Cat." New York Magazine. Sept. 29, 2013. (Oct. 19, 2016) http://nymag.com/news/business/boom-brands/grumpy-cat-ben-lashes-2013-10/

Yahoo News. "UK animal rescue center advises Downing Street on cat fights." Aug. 1, 2016. (Oct. 23, 2016) https://www.yahoo.com/news/uk-animal-rescue-center-advices-downing-street-cat-150426914.html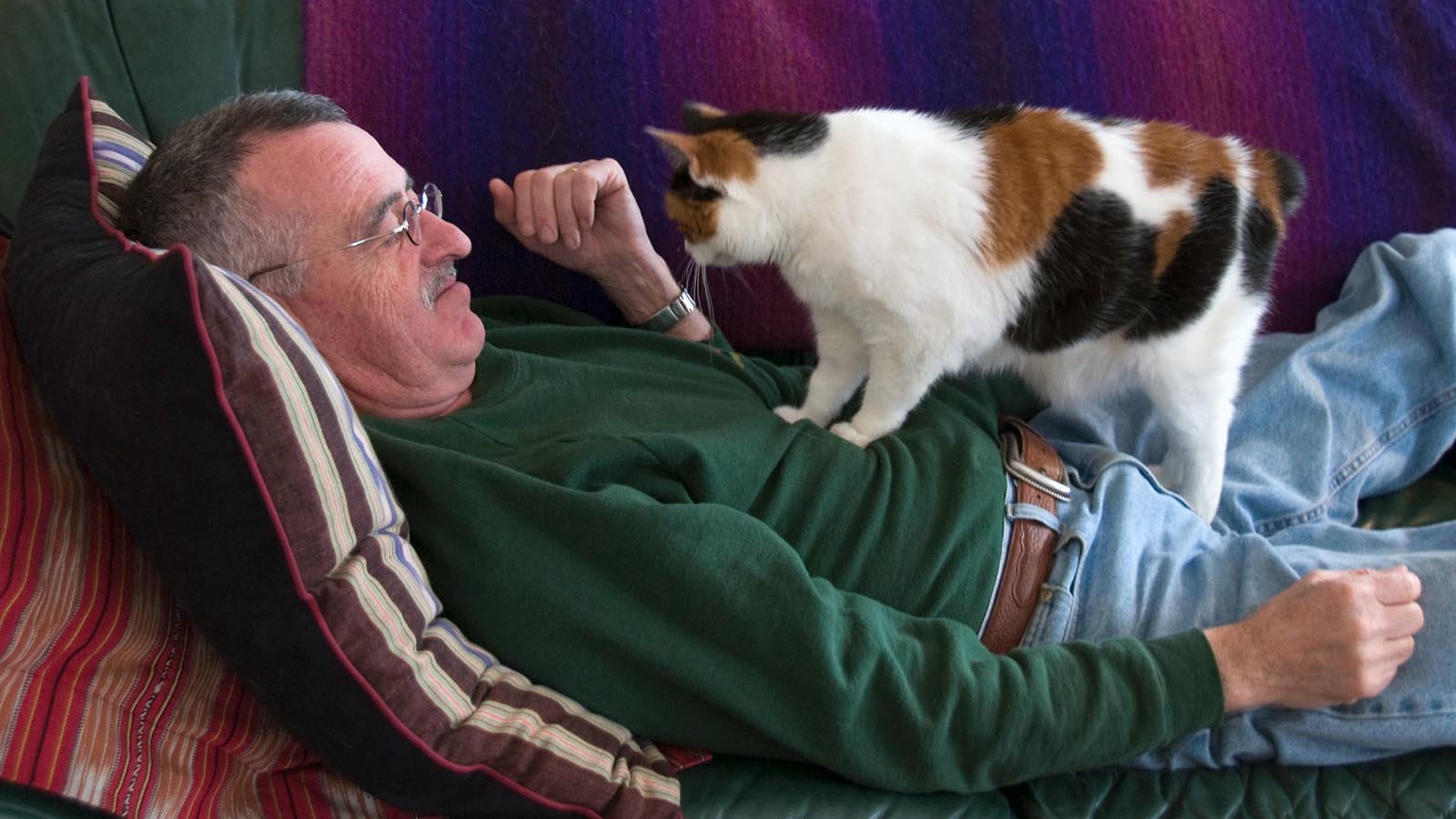 Up Next
This quirky behavior is common in all domestic cats. But what is your cat saying when she's making biscuits? HowStuffWorks dishes the details.
---